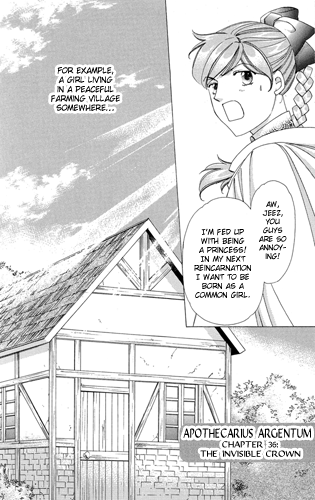 After not so long a wait this time, I have Apothecarius Argentum Chapter 36 for you today! With this, Volume 9 is complete! If you'd have asked me a few years ago if I thought there would be a day when I could translate and edit in high quality an entire volume of manga by myself, the answer would certainly have been no! One year ago I didn't know a word of Japanese beyond "Kawaii desu ne?" and two years ago I had photoshop phobia! Also almost 2 years ago the last published volume of this series was released by CMX... I think we've waited long enough!
I noticed that I made a mistake in translation in the previous chapter (35) that I'd like to bring to your attention. In the complete volume download at the end of this post, the correction has been made. On Chapter 35 Page 21, Amethyst says "Popola, take the inn and Jade with you and go to Beazol with Soda." This should actually say "...take the INNKEEPER and Jade with you..." Sorry about that! In Japanese it does actually just say "inn," apparently that's what they call this character. He appears more in chapter 36.
Some other translation notes for you this time:
1. In a flashback the king of Beazol says to crying Primula, "Are you hurt? I'll do 'pain pain fly away'." I haven't heard of this before, but according to what I read on Japanese wikipedia "Pain, pain, fly away" is something done by parents of rambunctious young children when they hurt themselves to soothe them. The parent chants "pain, pain, fly away!" and rubs the injured area, then picks up the child and swings them around in the air, airplane-style.
2. Throughout the whole series, various people refer to Daniel as the "Balladeer of Love." I have kept this translation because I like it. However, a more literal translation of the Japanese word used would be "Missionary of Love." In this chapter you will read people talking about his "Ballad of Love" when in Japanese they actually said more like "Gospel of Love." I have changed the dialogue slightly to fit with the "Ballad" translation. Just thought you might like to know!
3. I changed the spelling of "Ubella" (CMX) to "Yubella" because it sounds more feminine and in Japanese her name is written in katakana as "YUBERA."
4. Names I kept consistent with CMX cannon are "Carbeau" (the fencing instructor) which is written in Japanese as "KAABO" and "Ibraim" the country to the west of Beazol, which in Japanese is written as "IBURAMU".
I can't think of any more at the minute... I might come back and edit this post later if I can think of any! In the meantime, please enjoy this chapter as always!
Chapter 36: http://www.mediafire.com/?pkhybvwuloim2fm
Complete Volume 9: http://www.mediafire.com/?6yddp2qgkqel6bl#1