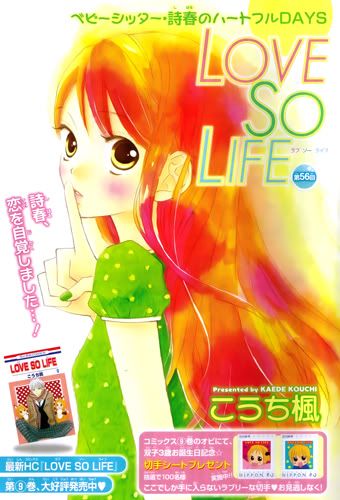 Hey guys, I'm posting something again! I got this magazine a few weeks ago actually but forgot it at my parents' house when I went to visit (*is a total airhead*). So now I've finally retrieved it and made some LQ photograph RAWs and a summary for you again!
This is the last magazine I'm planning to get until at least late April. There's some other stuff that I have to buy for another scanlation group I work with which is being released mid-April, so I will try to pick up another issue of Hana to Yume at the same time :D Sorry for the sporadic and inconsistent summaries :( I really love this series and it deserves better treatment!
Download: http://www.mediafire.com/?23e8wp16ur61up6
On to the summary!
So, I didn't get Chapter 55 so I'm not sure what happens there, but Chapter 56 starts off with Shiharu in World History class, dazing out and remembering the hug between Matsunaga and her in Chapter 54. It then switches to a narration of the day before and her conversation with Matsunaga as she was about to leave. She thanked him again for the new cup he bought her and apologizes for the trouble she caused him by 'throwing a big tantrum like that.' He responds that he was glad to be able to hear her feelings. Shiharu gets flustered and is about to run out, and Matsunaga starts to say something to stop her, but when she pauses and turns around he says nevermind, and Shiharu goes home. Flashback to the present in History class, Shiharu is hung up on wondering what it was he was going to say. Shiharu gets extremely embarrassed remembering how she acted weird and blurted out her feelings, then she starts eating her history book :P After History ends the girls are heading to Phys. Ed class and Shiharu, still out of it, walks strait into a wall. Furthermore, after changing into her gym uniform she doesn't even notice that she completely forgot to take off her skirt, and is still wearing it over her sweatpants. The death-blow comes when Shiharu gets hit in the face with a basketball in gym class because she's not paying attention. Rio brings Shiharu to the nurse's office, and after administering first aid the nurse takes off to go to the staff lounge (This would totally never happen in American schools! I seriously doubt school nurses in Japan are as negligent as they are portrayed in manga) and after the nurse is gone, Rio confronts Shiharu about her weird behavior. Rio insists that Shiharu's had bags under her eyes the past few days and today she's been completely zoning out. Shiharu starts to deny it but Rio interrupts, saying that if Shiharu really doesn't want to talk about it, she doesn't have to, but... Then Shiharu admits it's not that she doesn't want to talk about it but that she doesn't know how to say it... So she comes out with "Rio's premonition turned out to be right-on." Rio totally freaks out (so loudly it can be heard from space, apparently) asking when Shiharu started liking Matsunaga, since she'd previously said it was nothing like that. Shiharu is embarrassed and says that she doesn't really know when it started or what it is about him, but that when they are together her heart beats fast, and she guesses you could say it's because she's really happy, and that also when he does something especially kind/gentle towards her, her chest clenches tightly. Rio is over-the-moon happy about this, and states that what Shiharu is describing is absolutely love. Shiharu says it's her first time feeling like this, so she's not sure what she should do. Rio admits she also has absolutely no experience whatsoever, but the obvious thing is to confess, right?! "We have to make a plan!!" But Shiharu says she thinks she won't confess or anything like that, because being a babysitter or childcare worker means being entrusted with someone's life, and she can't do anything that could possibly interfere with the most important duty of protecting/raising Akane and Aoi. Rio responds that she's heard that it's important for children to be raised by both father and mother (using a word that means 'married couple') and Shiharu is very shocked but Rio quickly retracts the statement, saying she got ahead of herself. Then Rio advises Shiharu that she can't un-realize something she's already realized, and it's not as if she wants to deny her feelings, right? Shiharu responds that that's true, and it's why she thought she'd just keep on as if nothing's different and keep concealing her feelings, because she can't allow being too preoccupied with thoughts about Matsunaga interfere with her job. Rio get's frustrated and says the two (work and love) can co-exist, right?! "There are even career women who are making it work!" But Shiharu insists that she's the type that, once she starts worrying about something it totally consumes her ability to think about other stuff, and this is why she's been totally out of it lately as well. Shiharu then says that she really is very happy just being about to be with them right now. The school bell rings, more or less ending the conversation and Shiharu thanks Rio for listening to all that. Rio thinks that, it it were her, this would be completely impossible (and remembers her 'previous offenses'), but she decides that if this is what Shiharu has decided, she'll support her. As a distraction, Rio invites Shiharu to 'go play' and explains that lately Takeru and Mana have been saying they want to go Autumn leaf viewing, and she bets they'd love it if Shiharu brought Akane and Aoi along as well. Shiharu agrees. Then the rest of the girls from class arrive to see is Shiharu's okay (class just ended) and bring her back her uniform (she left it in the classroom and is still wearing her gym clothes). On her way from school to the daycare, Shiharu things that, with realizing her feelings, rather than feeling at peace, whenever she remembers things that occurred up to now her heart beats wildly and she gets out of breath and falls apart, so she's going to begin the "act just like before strategy" and intentionally try not to be aware of Matsunaga. But when Shiharu gets to the daycare Akane and Aoi are looking dejected and Shiharu finds out from the teacher that earlier the two had been happily playing together but when she averted her eyes for not more than 5 minutes they got into a huge brawl, and it seems the cause was over taking eachother's toys. Then Akane shoves Aoi and tells him not to touch Shiharu. In response, Aoi slaps Akane in the face. Shiharu asks them to tell her why they started fighting when only yesterday they were so exited about Chuutarou. Aoi says that Akane was smacking him, and Akane says that Aoi stole from her. Shiharu asks if Aoi asked to borrow the toy, loudly enough that Akane could hear him, and he says he did. So Shiharu asks Akane why she didn't let him borrow it, and Akane starts crying and saying that she wanted to play with it. Shiharu smiles and says she understands, "Akane really wanted to play with it, huh? But, Aoi also really wanted to play with it, he probably felt the same as you, right?" (not a direct quote) Then Shiharu says that it's a big problem, and wonders what they can do since there's only 1 of this toy. Akane suggests they share/take turns and Shiharu praises her saying it's a great idea and Akane's very smart to think of it. Then she hugs both of them and tells them they are good kids. The scene skips to later when Matsunaga has gotten home from work and Shiharu explains the situation to him and tells him that they still have a few wounds on their faces, but they've made up. Shiharu explains that at age 3, children's opinions increase as their ability to understand develops. This reminds Matsunaga that at age 3, Akane has to do Shichi-go-san (This is a shinto ritual wherein girls at age 3 and 7 and boys at age 5 have to go to the temple to offer thanks to the gods for their good healt. The origin is related to the fact that in the past many children died in early childhood due to various illnesses. That's no longer the case in modern times, but the custom remains.) Matsunaga shows Shiharu a catalog he got which has cute children's outfits and explains that he was thinking of dressing up Aoi as well in order to take their picture together (Traditionally you'd wear kimono but in this catalog there are prince-and-princess outfits and so on, and Matsunaga explains that in the case of siblings, it's not uncommon to dress up together, which is news to me!) Shiharu gets super excited and says that just imagining it is too cute for words. Then Matsunaga continues, saying that for this reason, can Shiharu tell him what day she has free next month. Shiharu asks if it's really okay if she comes along and he says of course. The chapter end with Shiharu's thoughts, that although some uneasiness remains, the "act-like-normal" battle tactics have been initiated.