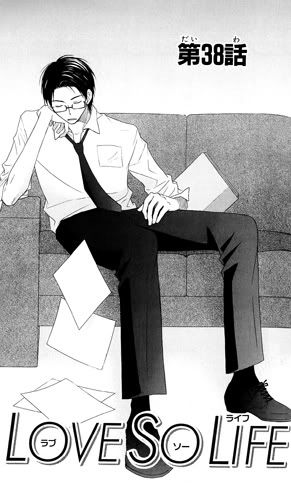 So, I want to make a few small announcements. First, in case it isn't clear, from volume 7 onwards, I've joined up with Japanzai as the translator for their scanlation of Love So Life. With this, I think that the "strike" the previous translator was on is over, and releases will come much quicker. The proofreader, cleaner, typesetter and quality-checker working on this series are really incredible and hard-working, so please stop over at Japanzai's site and thank them sometime!
Announcement number 2, is that I found some (very well hidden!) RAWs for volumes 7-9 of Love So Life that Nesfe kindly posted over at jcafe24.net. I'm going to see if I can't use these RAWs to create some brief summaries for the missing chapters to tide you guys over until Japanzai can catch up. In return, I'm asking you to please not use these RAWs for anything other than your own reading unless you get permission from the scanner Nesfe. You will need to register at jcafe24.net (it's free) in order to get the links and password to download the RAWs, because it is the wish of Nesfe that the links not be shared outside of the site. Once you register, you can find his scans over here: http://www.jcafe24.net/index.php?action=printpage;topic=30110.0
So, on with the summary! Sorasan was doing summaries around the time when this chapter was first published , but she skipped it because nothing that happened really progressed the plot of the series. But it was a really cute chapter! It starts with Shiharu returning to work for the first time since injuring her ankle 2 chapters ago. The twins seriously missed her and are being a little bit clingy, and even misunderstand that she's leaving them when she goes to get some items she left near the front door. But what she was going to get was actually a fun craft she brought for the twins to do: finger paints on an old sheet! Once the weather cools down enough that it's safe to bring the twins outside without risking heatstroke, they all change into old clothes that are okay to get paint on and go outside to have fun finger-painting on the sheet. Then Takeru and Mana peak up over the fence from their house next door, having heard Shiharu and the twins in their own yard having fun, and ask to join them. Afterwords, Takeru proposes that they do Nagashi-Soumen (this is Nagashi-Soumen: http://en.wikipedia.org/wiki/Nagashi_somen) using a bamboo chute that he and his classmates created and used to do Nagashi-Soumen in the yard at school (before they got caught and scolded by teachers!) Shiharu seems to think it's not a good idea but goes along with it because she doesn't have the heart to dump cold water on Takeru's enthusiasm, so to speak. At first the kids are also a bit skeptical and don't really understand, since they've never seen Nagashi-soumen before. But Shiharu gives each a cup, presumably filled with dipping sauce, and a fork and then starts sending noodles flowing down the bamboo slide. Surprisingly, Akane is really good at catching the noodles! She soon has her cup mounded with noodles, and the others weren't able to catch any because she took all the noodles before they could flow down to the others! Aoi chomps some noodles out of Akane's cup and Mana also tries to take some of Akane's noodles for herself, but in the struggle the chute is knocked over and water is squirting all over the place! Just then, Matsunaga-san comes home from work and finds the yard in disaster. After they get everything cleaned up, they make Soumen once again and eat it in the normal way. Then Matsunaga-san remembers that he bought fireworks the other day and suggests they all play with them together. Shiharu draws a cute diagram to explain to the kids why the lit end of the firework is dangerous because it is hot, but they don't seem to totally understand because once Takeru lights a firework, Aoi is mesmerized and approaches it. Takeru scolds Aoi and swings the firework away from him-- right towards Akane! And just then the sparks start flying out, scaring Akane badly. Shiharu gets her calmed down eventually, and even convinces her to use a "toy firework" (I don't really know much about fireworks because they are illegal where I live! But if you look at the RAWs you can see the difference between the two kinds. Then Takeru remembers that he has photos of their recent trip to the pool that he wants to give to Matsunaga-san. Shiharu freaks out because she doesn't want Matsunaga-san to see her "excessive body fat" if there are any pictures of her wearing a swimsuit. But in the end she gives the pictures back to Matsunaga-san, reasoning that he only wants to see the twins and won't even notice if she's in any of the pictures or not. However, Matsunaga-san does see a picture of Shiharu in a swimsuit and blushes, then tells her that she looks really cute in a swimsuit. Shiharu gets flustered and runs away, back to doing fireworks with Takeru and the kids. The chapter ends with Shiharu wondering why she blushed so much just from hearing Matsunaga-san calling her cute. And there's a kind of extra page, in which Rio is super happy because she made a date with Takeru to go see a movie in Shibuya.