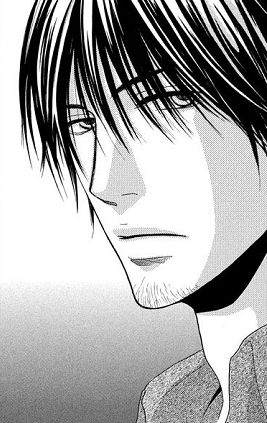 Hehe, so, I really like this series and have been following it even though I don't work with the group that officially scanlates it anymore [so don't blame me if their scanlations are slow, it's got nothing to do with me anymore!]. And since Aria is available online, as I mentioned before, it's pretty easy for me to keep up with it without the ridiculous fees for international shipping! Since the scanlations are going really slow for reasons I don't know, I thought I'd share RAWs and a summary for the most recent chapters. For now, I'll put up chapter 20, since it's already on my computer, and I'll hurry up to scan chapter 21 as soon as I can. I put watermarks on these scans so no one gets tempted to steal them :D Sorry, guys!
The tag line on the first page says "I still don't know what to call your feelings…" Shinichi looks gorgeous as usual :D

On the first page of the manga proper, Shinichi is calling after Haruka who got upset and ran away at the end of the last chapter. He starts recalling what she said about never wanting him to do those things for her (helping her with middle school entrance procedures and so on) and that she hates him when he's like that. He's totally stumped why she's saying this all of a sudden, and decides he needs to spend more time thinking it over carefully. In the next scene Shinichi is hard at work writing and Satomi is there when Maa-kun comes over to feed Sakura. Shinichi hears them talking and comes out of his study to join them. Maa-kun explains that Haruka asked him to take care of the cat today, and Shinichi gets grumpy about it, saying she should look after her responsibilities herself. Maa-kun accuses Shinichi of doing something weird to Haruka, with the reasoning that she wouldn't push off her responsibilities on him if not. Of course Shinichi denies it and says that he was just worrying about her entrance exams and she got pouty all of a sudden for no apparent reason. Maa-kun argues that that's taking a big responsibility onto himself and Shinichi counters by asking if Maa-kun's parents weren't around, does he think he could do it all himself? But Maa-kun keeps arguing that Shinichi is acting really weird, being way more responsible than his usual self. Maa-kun calls Shinichi a "disgusting creep" then leaves. Satomi teases Shinichi for being called a "disgusting creep" but then says she also kind of gets what Maa-kun was saying. She says she thinks it's a good thing but she's also noticed that Shinichi's gotten uncharacteristically paternal lately. Then she skips off, leaving Shinichi to think in frustration that if he does nothing he's accused by others of being a suspicious adult and if he steps up and takes responsibility he's accused of being unlike himself. Then he reminds himself that he's already decided to look after her while she's still a kid. Shinichi then calls Haruka, and she answers but as he tells her that Maa-kun came to feed the cat and scolds her about pushing her responsibilities off on other people, she doesn't say anything but "…" and when he brings up the entrance exams Haruka actually HANGS UP ON HIM! I was really shocked! So was Shinichi, haha. He rants for a page or two about "What does she have to be unsatisfied about?!" and "Why is she acting like this all of a sudden; what happened to that 'honors student' manner she used to have, now that it's come down to the wire (entrance exams) she does a 360?!" and so on. Then, all of a sudden, the scene changes. I think that this is another day, and that the page of Shinichi's ranting was supposed to serve as a scene change because before he was alone in the house with Satomi but now Oogaki and Utako are there with him, and all three of them are sitting in the living room drinking coffee. Shinichi's rant is interrupted, right at the point where he remembers Haruka telling him "I hate you" by Utako saying "I love you" to Oogaki. Utako tells Oogaki she's really serious about him, and Oogaki remarks how bold and forward she is, to say such a thing right in front of Shinichi. Utako counters that Shinichi was so lost in reading a book that he never even noticed when she brought him a coffee, but then when she looks up and sees Shinichi drinking his coffee and looking at her she changes to "Who cares about that old guy!" and tells Oogaki again that she really likes him. Oogaki says "Is that so? I'm so happy!" and Shinichi in the background is spewing coffee out of his mouth with a small text that says "WTF are you saying?!" Oogaki even says that he also thinks Utako-chan is very cute. Utako points out that they have mutual feelings, so… and Oogaki asks her, if that were the case, what would she want to do? Shinichi interjects "Oi, Oogaki, what are you—" but Utako interrupts saying she wants to go on a date, hold hands, and brag to her friends (yup, that's definitely Utako's personality!). Oogaki then asks her "Is that all?" (WTF Oogaki???) and Utako says that she wants to do lots of other things too. Oogaki pretends (?) to think it over but then says that right now he has no time right now to do those kinds of things she described, and he's at a point in his career where he wants to concentrate fully on work and do his best. Then he asks Utako if she can try to understand that for him, and points out that she will also get busy with her studies soon. So, Oogaki proposes that, in 7 years, if Utako still feels the same way about him, he will date her. Utako makes a totally spaced out lovey-dovey face, and the scene changes to some point later on when Shinichi and Oogaki are alone. Shinichi is calling Oogaki a moron about this "7 years" nonsense and Oogaki tells Shinichi that 7 years feels like way longer to kids of that age than to adults, and that in the meantime a whole new world will open up for her and she'll forget the promise completely. Shinichi isn't so certain and tells Oogaki that women are scary, and Oogaki then accuses Shinichi of thinking of those girls as women. Shinichi makes a stern face at Oogaki and Oogaki chastises him for it, saying he was only joking. Then Shinichi asks Oogaki how that conversation came about, and Oogaki said that when Utako asked him if he had a girlfriend and he said he didn't, she suddenly confessed. Then Oogaki changes the conversation and accuses Shinichi of something that I didn't really understand, but I think basically he was saying that Shinichi is really uptight and would normally immediately reject the girl if he were in the situation Oogaki was just in, but for Shinichi, Haruka is a special case. Shinichi denies it right away, of course. Then Oogaki tells Shinichi to just make up with Haruka already and that he'd be troubled if [this situation] ends up effecting Shinichi's work. Shinichi denies it strongly once again (there's a pattern appearing in this relationship…) but Oogaki then says that if that happened it wouldn't be interesting, and he really wants to see Shinichi loose his cool, pissing Shinichi off once again. In his thoughts, he says that in light of how hard Haruka's life has been, it's not okay for her to be a part of Oogaki's stupid obsession with "interesting" stories. In the next scene, Shinichi finds a letter from Haruka saying that she came by to feed the cat and made a bentou for him as well. He thinks that if she comes to feed the cat but takes care not to come face to face with him, then she need not bother making food for him as well. He once again remembers her telling him she hates him, and he makes some lovely angsty faces :D The scene changes again and it's presumably the next day, because Haruka is once again sneaking into Shinichi's house to feed Sakura while trying to avoid him. However he's sitting at the kitchen table waiting for her! First he asks her why she's making that face and if she really didn't want to see him that badly. Then he says it's fine but he just wanted to say he's the one at fault, because although he didn't have bad intentions his behavior was going too far, and that he was suddenly acting unlike his usual self and being naggy. Then he says that she might not realize it right now but entrance exams and the course of study she chooses are really important and even one mistake at this point can cause a lot of problems later on, so "Just this once, even though you don't want to, I'm asking you to bear with it." Hehehe I got really excited over this sentence, because if you take it out of context it sounds like he's talking about something perverted :P Anyways, Haruka finally speaks back to him for the first time in almost a week, and tells him that she understands that he's seriously thinking about what's best for her, and that makes her happy. Shinichi asks her if the reason she's upset is because he's acting like her father when he doesn't have that right since he isn't her father, but she said that's not it. She bursts out with "It's not a matter of whether we are or are not parent and child, or whether we are 11 and 32; I want you to see me for who I am. And I want Shinichi-san to be who he is. That's the Shinichi-san I want to be with." *EPIC END OF THE CHAPTER*~~!! Shinichi's face as he's totally stumped by what Haruka just said is also pretty funny!