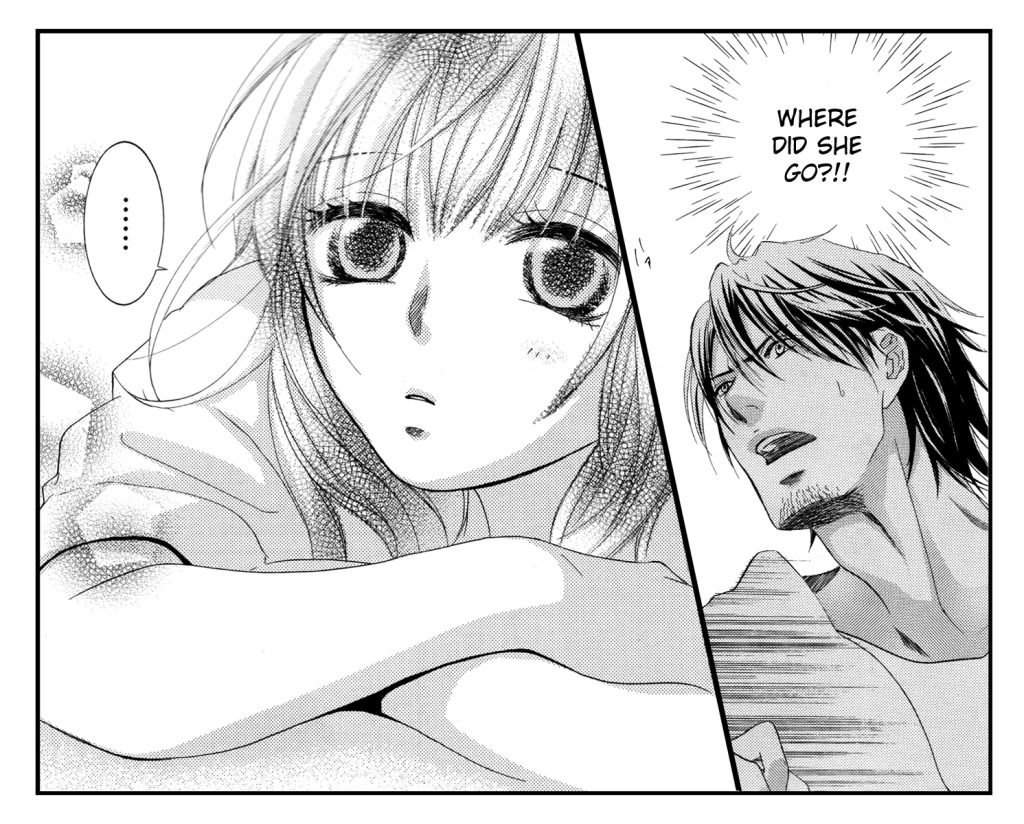 This is the last chapter of this series I have for now. The author took a month off so the next chapter will be released in print on 6/28 and in digital format on 7/15 or so, so check back around that time for it. The preview picture this time is my own creation, combining two separate scenes in this chapter that (unintentionally?) fit perfectly together :D Agitated Shinichi is so handsome~~ And Haruka looks cute here too.
Download: http://www.mediafire.com/?1wypo1go7ywlmbt
Let me start off by saying I found this chapter super over-dramatic. The tag line on the cover page is something like "Wanting to grow up... and wanting to remain how we are now... both are my true feelings." Of course the manga picks up from last chapter's cliff hanger. A very pitiable-looking Haruka is shown, repeating her outburst from last time about wanting to be with Shinichi-san the way his [not the way he thinks he should be.] In Shinichi's thoughts he admits he really doesn't understand what she's trying to say is the reason why she was angry at him before. Then Haruka backtracks a bit, apologizing for suddenly saying something weird, and she says that she also doesn't really know what she means. She also apologizes for previously saying she hated him. Then Sakura meows, reminding Haruka to feed her, and ends the conversation. Shinichi wonders if it really is just that she's a difficult age, and remembers again what she said about "wanting [him] to see [her] for who [she] is." He wonders, if he's not seeing her for who she is, how on earth he's seeing her. The scene changes and Shinichi and Satomi are in his living room eating dinner and having a conversation. Satomi tells him that he's really good at intuiting other people's situations, but he's totally dense when it comes to his own, and reminds him of how he helped her [in the sidestory after chapter 19] have the confidence to be true to herself and start living as a woman. She tells him it must be that he just sees things different than "the rest of us." She thanks him for what he said back then, that (paraphrasing) "No matter what else changes, we [the friendship we have] won't." Then she says something about his and Haruka's situation that strikes him "[What I'm trying to say is] it's okay not to change." She tells him that even if he's suspected by people, there's no need to burden himself with becoming Haruka's foster parent, and that his strong point is being able to understand people who have experiences similar to his own. She tells him he doesn't have to change, and that that's probably what Haruka wants: for him not to change, for him to be blunt, careless, anti-social, and indifferent as always. Then Satomi asks Shinichi if he feels that Haruka is really pitiable, and if he would have liked to have been thought of that way [when he was a kid.] Then he finally starts to realize that maybe what she was upset about was him making assumptions about what she wants and what's best for her, without actually consulting her. Satomi teases Shinichi that with a little more work he'll be able to understand women's feeling completely, and he counters gruffly that he'll never comprehend the way women's minds work his entire life! There's a random page without text depicting Haruka looking at the moon out her bedroom window, and then on the next page it's back to Shinichi's house, where Oogaki has just arrived to find Shinichi and Satomi totally drunk! Oogaki scolds Shinichi for getting so drunk at his age, and especially while he's acting as the foster parent of a child. It's a little bit hard to follow what Shinichi's saying because he's drunk, but basically he goes on a rant about being lectured by both Satomi and Oogaki, and says everyone is always doing nothing but nag him about this or that regarding Haruka, and she's the worst of all (???) He says she used to be so obedient but lately has gotten bratty and disobedient, and even tells him she hates him! He's totally worked up, and Satomi and Oogaki (and me) find it hilarious. Shinichi said that he 'can't stomach it' which somehow is funny enough for Oogaki to make fun of him for for an entire page, and Shinichi gets super pissed off at him. The next day Oogaki is sent to the store to buy some "hangover remedy" much to his chagrin, and on the way back happens upon a crime scene. The police are there, setting up crime scene tape, and some local housewives are gossiping that a "slasher" attacked an elementary school aged girl. About "slasher" this is a person who goes crazy from stress and goes out into the streets and starts attacking strangers with a knife. Apparently this is actually a social phenomena that occurs often enough in Japan to have a word for it. I don't know what the normal English translation is, so I'm just writing slasher :D When Oogaki gets back to Shinichi's house, Shinichi complains that the hangover remedy tastes like shit and Satomi it's his own fault for going overboard. Oogaki is quietly watching the TV, looking for more information about the slasher incident but it hasn't made it on the news, it seems. Oogaki asks Shinichi if Haruka's at school today and Shinichi says he hasn't heard anything about her being absent. Satomi asks Oogaki what's wrong and he tells her there was a slasher attack in the neighborhood just now. Satomi is terrified, but when Oogaki relates that he heard the onlookers say it was an elementary school aged girl, Shinichi responds that it couldn't be Haruka since it's the middle of the day and she's not the type to skip school. But then he adds that he'll tell her to be careful anyways. <3 Suddenly Maa-kun bursts in! First he gets yelled at for being there when he should be at school, and we he explains that everyone was let out early because of the slasher incident nearby, he gets yelled at for coming all the way there alone, and he responds that he had to come because Haruka asked him to feed Sakura; she left school during first period because she wasn't feeling well. Shinichi grabs him and asks if they told him at school who the injured party was in the slasher incident, but Maa-kun says that they weren't told. Shinichi runs dramatically to the phone to call Haruka's house, but she doesn't answer. Maa-kun starts to realize that Haruka might have been the one attacked by the slasher, and Shinichi curses and shouts "Why didn't she pick up?!" Oogaki tells him to calm down, and that since Haruka left school because of a cold it makes sense that she's sleeping and didn't hear the phone ring. Shinichi yells "What do you expect me to do?! You're the one who said that a child might have been stabbed!" Oogaki tells him again to calm down, and reminds him that they don't know for sure that it was Haruka. Shinichi apologizes for losing his cool and says that he'll go check at Haruka's house, and asks Oogaki and Satomi to take Maa-kun home. Then Shinichi dramatically runs out of the house. At Haruka's house, Shinichi rings the doorbell about 1 million times, all the while scolding Haruka in his head for making him worry. He even thinks "Right now, it's fine even if you just show your face, so come out!" He remarks that he's not really comfortable using the house key Haruka's dad gave him for emergencies, but he does it anyways. He goes inside her house and looks around and even goes inside her room on the 2nd floor, but she's not there. So he once again runs out dramatically. He dramatically runs right past a group of police officers, and realizes that this must be the place where the slasher incident occurred. The nosy neighborhood housewives are still there gossiping and Shinichi hears them say that the victim was a "cute long-haired girl in the 5th or 6th grade." There's a huge puddle of blood, and on the last page Shinichi thinks "Haruka?!" while picturing her face. Cliffhanger!!!