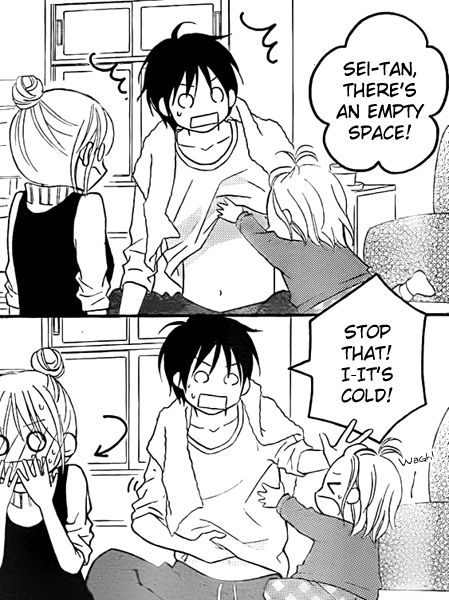 I'm really REALLY sorry for how late this summary was! But it's here now! The truth is... I kind of forgot that I haven't written it yet! The reason is, I wrote almost the whole thing once, and then my computer restarted itself because of software updates, and because I remembered writing the summary I didn't realize I didn't post it until just now. So, without even further delay, here is the second version!
There's no dialogue on the first page, Nao-kun and Shiharu just stare at eachother until he finally lets her go and gets off of her. The chapter title page has a picture of the two of them as children with the tag line "The warmth of family, and the heat of romance; both are pleasant feelings, but…?!" Nao-kun leaves the room without a word, on the way out picturing her terrified face with what I imagine is shame. When Nao's room mate returns shortly after, he finds Shiharu laying on the floor exactly as Nao left her, still in shock. But when the room mate asks Shiharu what she's doing, she avoids the question and quickly cleans up the table they'd been using to study and leaves.
The next day at school, Rio notices immediately that something is up with Shiharu because she's emitting a dark aura and has mushrooms growing on her head. I tried asking my host brother and my Japanese friends what the mushrooms were about. My host brother said only "It's because THAT happened to her in the last chapter, so she's all doki-doki." And my Japanese friends said that it was just weird and didn't have any specific meaning. One of my readers and kind friend Kai told me that she saw this same thing happen in another manga when a character was really depressed, but I still don't know the origins of mushrooms growing on someone's head = depression. In any case, Rio quickly picks all the mushrooms off Shiharu's head, and Shiharu immediately perks up, greeting Rio cheerfully as usual. Rio asks her if something happened with Matsunaga-san and Shiharu vehemently denies it, so Rio asks her "Then what is it?!" Shiharu tries to say that it's nothing but as she pictures in her mind what happened the night before, she realizes she can't lie to herself (anymore?), because that wasn't nothing. Rio sees how upset Shiharu is from the look on her face, and tells her they'll discuss it in private during lunch. Shiharu recalls what Nao-kun said to her in Hokkaido, about "What would you do if I told you I love you?" and realizes finally that he wasn't joking.
At lunchtime, Shiharu told Rio about the incident the night before, and Rio is surprised at the sudden development, but notices that Shiharu seems less than enthusiastic about the whole situation. She suddenly jumps to conclusions and asks if he did "Anything else, more than that" to her, and Shiharu is clueless as to what Rio is talking about, and Rio is forced to say directly "Such as, forcibly kissing you or something…?" Shiharu blushes furiously and denies it, although it was pretty close to the truth. Rio asks her if that's not the case, then why is she making such a serious / troubled expression. Shiharu explains she'd always been thinking of Nao-kun as a brother and was glad knowing there was someone who she could rely on like family, but… Watching Shiharu feeling sad, Rio thinks that ever since she was young, Shiharu has always been valuing "family" much more than "[romantic] love." Rio counsels Shiharu as best she can, sympathizing that she has a real older brother and she'd certainly be freaked out if he confessed love to her, but from Nao-kun's perspective, she can also understand that since he's always been in love with Shiharu of course he'll be hurt (literally she says "shocked") seeing Shiharu make "that kind of face" (fearful and distrusting) at him. Shiharu says slowly "Is that… so…?" and Rio shouts that it is. Shiharu asks Rio what she should do, and confesses that she told Nao-kun he was scary. Rio looks surprised, and thinks to herself "It went that far?! This might really be serious…" but doesn't have any advice for Shiharu about what she should do now.
That night at Matsunaga-san's house, Shiharu is cleaning, still troubled by the confrontation with Nao-kun, when the twins approach her carrying a duster and ask her what it is. She explains to them that it's a tool for cleaning gaps and crevices in between things. They ask what a crevice is and she shows the an example of a small gap between the bookshelf and the wall (I think) and tells them at the duster is really convenient because it can clean places the vacuum won't fit. The twins get really enthusiastic and go around the house pointing out crevices to clean with the duster. Finally the turn to Shiharu and Aoi-kun asks her if the space inside her sleeve between the cloth and her skin is a crevice. When she says she guesses it is, he trys to clean it with his hand. Akane-chan joins him and they end up tickling Shiharu inadvertently, and all three fall in a heap on the floor. Shiharu thinks to herself that although she was forced to laugh (by being tickled) the laughter helped to distract her from her problems a bit. Just then Matsunaga-san shows up, having just come out of the bath. When he notices that they are cleaning, he praises the twins and apologizes to Shiharu for having her watch the twins even though he's home already. Aoi-kun starts arguing with Matsunaga-san for not blow-drying his own hair after the bath, even though he always forces Aoi to have his hair dried. Shiharu stares at Matsunaga-san for a long moment, and starts blushing, and when he notices and asks her what's wrong she blushes even more and insists it's nothing. But in her thoughts, she reveals that Matsunaga-san smells really good at this moment. She scolds herself for thinking such weird thoughts and tells herself it's only natural to smell good right after getting out of the bath. Akane-chan picks this moment to point out the "crevice" between Matsunaga-san's shirt and his stomache, and pulls his shirt up and tries to climb inside to clean the crevice (?). Shiharu blushes even more furiously and turns away at the sight of Matsuanga-san's naked torso. She realizes that Nao-kun feels the same way about her that she feels about Matsunaga-san, and that he's also "suffering" the same way she is, being about to enjoy being near the person they like but being in pain because the love can't become mutual. In light of this new understanding, she comes to the realization that what she said to Nao-kun, calling him scary, was really hurtful.
Back at the orphanage, Nao-kun is in his room staring angstily out the window. He's thinking to himself that he never wanted to make her make a face like that, and that he never thought he act so childishly and rashly. Nao-kun's room mate asks him if something happened between him and Shiharu, but instead of answering, he gets up and leaves the room. As it happens, Shiharu is just getting home from work when Nao-kun walks past the front door. Shiharu is surprised to see him, and tries to think of something to say to him, but he looks at her with an expression that's hard to read, but looks full of pain, and turns away. Shiharu calls his name after him, but he walks away without pausing. As he goes, he's thinking that what he did yesterday was behave in a manner that would snatch away her smile, and so he no longer has any right to care about her. He goes into some other room and closes the door the sinks down on to the floor and leans against it, thinking "So why do I, even so…" The chapter ends here.
There will be no Love So Life for 2 issues; the next chapter will come out 11/20. Please wait patiently!
Download: http://www.mediafire.com/?ts0kgx9um430hpj