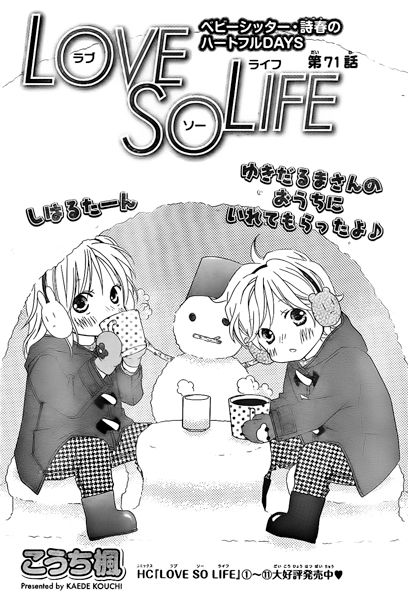 For unknown reasons, Hana to Yume was on the shelves in my local bookstore 2 days early this time instead of the usual one, so I've got the chapter for you guys early! I also refined my editing technique a bit, so while it's still not perfect, it's getting better than it's been.
I'll try to write a proper summary of this chapter in the next few days if my mountain of homework allows, but in the meantime here is a briefer-than-usual summary that explains all the main points.
Download: http://www.mediafire.com/?cve0e7hcsr3c1rc
Main points:
- Shiharu, Matsunaga-san and the twins visit the twins' grandparents in Shizuoka to celebrate New Years Day together.
- Grandpa asks Matsunaga-san (right in front of Shiharu) if he and Shiharu have "had any progress" since the last time he saw them.
- The twins are happy to see pictures of their mother at their grandparents house, but they don't even recognize their father in the pictures of him and Misaki. Matsunaga-san gets a bit ashamed and admits that he doesn't talk to the twins about their father because he's not sure Kouichi is capable of acting as their father anymore. Grandpa says that they should wait and see how the future plays out, as only Kouichi himself can prove whether or not he's capable of being a father, and in the meantime suggests they leave a space open for him to return to by making sure the twins remember their father. Matsunaga-san seems pleased and tells the twins that the man beside their mother in the pictures is their father.
- Grandma and Grandpa talk to Matsunaga-san seriously while Shiharu entertains the twins in the other room. They tell Matsunaga-san that they think it's best to tell the twins about their upcoming move ahead of time, in order to give them some notice and minimize the shock as much as possible. They say that they believe that even doing this won't completely spare the twins from pain during the transition because they are too young to understand the circumstances and will probably feel they've been abandoned once again, but rather than not giving them any advanced notice at all, it's the better option. Matsunaga-san agrees sadly, and asks Grandma and Grandpa to let him explain it to the twins himself when he finds the right timing, and they agree.
- The twins get bikes as new year's presents from their grandparents. The way they say thank you and the way they look riding their bikes is so cute it's almost lethal. Grandma nearly swoons. I notice she and Shiharu are very alike.
- Grandma and Grandpa both express worry about how Shiharu will handle the separation with the twins. Grandpa tells Matsunaga-san that he worries Shiharu will take it harder than Matsunaga-san because, since she's not technically family, she will feel that she shouldn't intrude by coming to Shizuoka to visit them. Grandma tells Shiharu directly to please come and visit the twins, and promises that she'll come to pick her up at the station. Shiharu says she will come to visit.