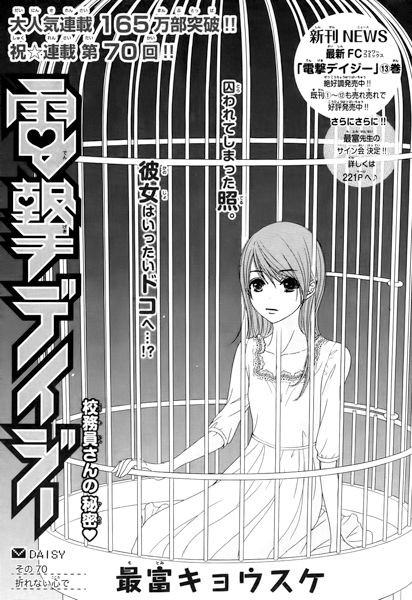 I know, I know! I said last month that I wouldn't be making Dengeki Daisy a regular thing, but... Surprise!?
These are the last Dengeki Daisy RAWs that I will personally be scanning, as I am going to be leaving Japan in a little under a week. But my good friend Asahi (formerly of Halftone Circle, now active on Tumblr) has offered to continue providing RAWs for this series for us! So from now on I'll continue summarizing this series with her RAWs.

Download: Link Here!
Online Viewing: Link Here!
Chapter 70 starts off with Ministry Asshole#2 (I really need to learn these guys' names!) locking unconscious Teru up someplace, it looks like a storage unit to me.
Meanwhile, Riko is receiving the news from Master by telephone that Teru has been abducted, and she's not too happy about it. She tells him to stop joking with her and he yells that he wouldn't make this shit up even as a joke, and explains that they got the criminal's message as a text from Teru's cellphone. Riko starts to mention Kurosaki and just then we find out why it's master, not Kurosaki, on the phone—Kurosaki's trying to break down the door with his bare hands, while being yelled at Ministry Asshole#1, whose name is apparently Shibayama, to stop before he breaks his hand. Master explains that he contacted Andy before calling Riko, and that Andy has communicated to the others to start investigating Teru's disappearance. According to Master, "Department Chief Nishida" is already on it, but for some reason they can't get in touch with "Kouno" (I think that's Ministry Asshole #2's name, so it would make sense that they can't get in touch with him, as he's the one who snatched Teru.)
Also at the same time and elsewhere, Andy and Kiyoshi are also reeling from the news of Teru's kidnapping. Kiyoshi blames himself for not staying with Teru but Any tells him it's not his fault, and asks him once again if he's sure it was Kouno from the Ministry that Teru got in the car with. Kiyoshi confirms it and starts to ask Andy something about Kouno, but just then a call comes from Department Chief Nishida (who I'm going to call just "Nishida" from now on), who says he found Kouno, injured, in the warehouse district at H Coastal Marina. Nishida relates Kouno's story that he must have been hit on the head by someone and was unconscious right up until Nishida found him. Nishida also says that Kouno admitted he was with Teru before he fell unconscious, but Nishida hasn't gotten any more than that out of him yet, due to his injured state. Then Nishida ends the call by agreeing with Andy that they should all regroup together and try to figure out what happened. Kouno starts to apologize to his superior, but Nishida tells him to save it, saying that first they're going to the hospital to make sure Kouno's okay after being hit in the head. Nishida tells Kouno that if he's really sorry, he should make amends for it by working hard to help get Teru back, after being cleared by the doctors. After hanging up with Nishida, Andy tells Kiyoshi that there's a favor he wants to ask him, man-to-man: help him get Teru back. Andy says that from here on out there's no room for indecisiveness or getting discouraged, and that in order to get others to work hard, you must first show them that you yourself are working hard.
As Teru starts to come to, she is thinking that things have finally started coming into fruition, in such a way as no one would have predicted. Her first conscious thought is that she doesn't know where she is, and that her body is numb and she can't move, that her eyes are heavy and she can't think clearly. Then she realizes she's not alone, as a man in a black cape is talking on a phone, saying that the plan was executed smoothly and that they are in the designated location, G77. She recognizes him as Antora. It seems, as far as I can tell, that Antora is arguing with a 3rd person about what exactly Kouno wants them to do. Antora calls him "Kouno-sama," giving the impression that Kouno is of much higher rank and in charge of this operation. Antora complains that he was pretty sure Kouno ordered "provisions" to be stocked here in case "forcible intervention" should become necessary, but presumably there aren't any provisions. The person on the other end of the line seems to be arguing back that the situation changed unexpectedly and that Antora should play it by ear, but Antora is dissatisfied with this response and says cattily "Didn't Kouno-sama say just the other day not to get ahead of (yourself/ourselves) and just follow his orders like an obedient dog?" Then Antora apologizes for his rudeness. After hearing his name, Teru starts to remember getting in the car with Kouno, but then Antora continues to say something cryptic "But remember what Kouno-sama said, and take care that absolutely no one has any suspicion that you were in on the planning of "the Will of M." Because if they do, the contract will be voided and you'll be targeted for disposal. So watch out, ne <3" Antora's really catty! After hanging up the phone, Antora comes over to Teru's bedside, where she's struggling against the effects of whatever drugs she was given, and asks her if she's having difficulties with her body. She grimaces at him and tries to ask him, haltingly, where she is and what the hell he's planning, but has a very hard time speaking because of the drugs. Andora praises her as a brave girl for trying to speak already, but cautions her not to push herself because the drugs she was given were very strong. He tells her he's injected her with an antidote but the effects will last for another half a day. He tells her to try and rest for a while, and when she wakes up again she'll be free to do whatever she likes then. He gives her the advice that if she just stays as she is and avoids danger, everything will be over before she knows it. He also says kind of cryptically that such is the inevitable fate of the strong. He leaves, saying that he's looking forward to seeing how things will turn out, and Teru tries to call after him, seriously disoriented but still can't move or speak well. She worries about how it became like this, where she is and for what purpose, and finally before losing consciousness she worries about The Will of M and Kurosaki's group and how they're making out.
Elsewhere, a patched up Kouno is fuming childishly about being told to watch out. From this we know that it was Kouno that Andora was talking to in the last scene. Kouno says "Doesn't he know who I am—I'll be the ruler of this country someday!" He goes on fuming about Ando bra assuming he's an idiot who'll blow the whole plan, and how it's not exactly hard to deceive a dimwitted child who's weak in the face of authority. He then contacts Nishida and tells him the examination's over and he'll be ready to meet in 20 minutes.
The transition to the regroup scene is punctuated by unconscious Teru apologizing to Kurosaki in her thoughts for making him sad and worried again by being kidnapped again, just when she'd been saying she wanted to become his strength. Is anyone else annoyed when she does this? It really annoys me! Anyways, Kurosaki and co. gather in Kouno's hospital room where Kouno explains his cover story—at some ~unknown time~ an ~unknown assailant~ concealed himself in the backseat of Kouno's car and at the opportune moment jumped out and knocked him unconscious and next he knew he was waking up at the wharf with Teru's phone beside him, apparently wiped clean of fingerprints and destroyed by the criminal after sending the mails to Kurosaki. He starts going into unnecessary detail about how if only Teru had the phone, they could track her, but since she doesn't they've got no~~ hope of finding her, and how he hopes she's not busted up the same way the phone is, but it's not too likely… And Riko gets really angry at him for talking about Teru so impartially. She yells at him that (I think) if he's become someone's target than his "protection" of Teru is as good as worthless, and that this all happened because the Ministry assholes were so concerned with keeping a tight lid on all their super top secret information that they held important facts back and detained Kurosaki and Master. Riko demands to know who reported to Kouno that Akira had been sighted (the ruse he used to get Teru to go with him) and Kouno starts to pull the "Protecting the anonymity of our informants is the Ministry's sacred duty" card but Riko is not buying it and starts to yell that, more than Akira, Kouno who is treating them like traitors seems more like their enemy. Suddenly Kouno bows his head and starts apologizing, taking all the blame for Teru's abduction, but he says it in such a way as to passive-aggressively imply that Kurosaki and company, rather than the Ministry Assholes, are the ones who gave the enemy an opening to grab Teru by not being forthcoming about the truth about The Will of M. Then he continues on with taking all the blame once again and making a big enthusiastic speech about how they'll all work together and focus all their efforts on saving Teru. Kurosaki starts to protest "What about the counter-plan again The Will of M?" but Kouno cut him off by saying that that doesn't matter anymore, there is nothing more important than Teru's life, right? Then he starts getting creepy and tells Kurosaki (contrary to what he just said about teamwork?) to not worry and leave everything to him, he'll take care of everything… Just then Andy cuts in with a really disturbing expression on his face. He asks Kouno what he said to get Teru to get in the car with him. Kouno says that he told her "You might be attacked by Akira" and Andy responds coldly "You wouldn't be lying right now, would you, Kouno-san?" Andy then reveals that Kiyoshi overheard what Kouno actually said to Teru. Next, Andy turns to Kurosaki and asks him what happened to the Daisy who would risk his life to save Teru whenever she's in a pinch. He tells Kurosaki he'll think less of him if he really just sits by and does nothing. Kouno gets flustered and tells Andy he has no common sense if he can't sympathize with Kurosaki at a time like this, but Andy says that it's because he does sympathize with him that he knows Kurosaki has to take his chances and go after Teru. Andy reasons that the kidnappers will likely dispose of Teru once they don't need her anymore, not return her. And even if they did return her, Kurosaki would never be able to face her again with the knowledge that he stood by and did nothing like a coward while she was fighting all alone. Nishida acknowledges that Andy's logic is correct but asks what they can do in this situation. Andy responds that he may not be very courageous by their standards, but he has a way to track down Teru's location and to drive her cowardly kidnapper out of hiding. Then Andy leaves, saying that he supposes the rest of them won't join him, so he'll do it on his own, and asks that all cowards keep quiet and wait and see. After Andy leaves, Kouno gets a dangerous look on his face and says that there's got to be something wrong with Andy's head, and that he might even be a traitor, so they'd better not let themselves be confused by the nonsense he was speaking just now. Riko and Master agree that they didn't know Andy was that kind of person, and that they'd best follow along with Kouno's advice for now. Then they take Kurosaki and leave, telling Nishida to contact them if there's any news. Only Shibayama is perplexed by the sudden betrayal against Andy and calls after them frantically "Isn't Andou-san your friend? You really don't have any faith in him at all?!" Once they leave, a nurse starts moving the furniture back into the room that was taken out so they'd all be able to fit in the room. Riko is going on about what an idiot Andy is and how irritated she is at him. Master asks Kurosaki if he's okay and Kurosaki asks "What, about Teru?" but Master responds "No, have you really accepted it completely?" (he says it really vaguely, on purpose to be cool but what I think it means is "have you prepared yourself for what we have to do now?"). Kurosaki responds that of course he has, he's not a coward to be so easily put off. Back in the hospital room Shibayama is still questioning the intelligence of Kouno's "do nothing" plan, but Kouno insists that they need to observe quietly so they don't miss the kidnapper's next move. Once the nurse enters, Kouno orders the others to silence and reminds them not to let this matter leak out to anyone else. Nishida and Shibayama take their leave, telling Kouno to rest and heal from his injuries and promising to keep an eye on Andy so he doesn't do anything troublesome. After everyone's left, Kouno is thinking to himself what a bunch of fools they and how he has them all right where he wants them, even Daisy. All except Andy, who he identifies as someone he has to get rid of as soon as possible. He suspects that what Andy said about being able to find Teru's whereabouts is a bluff, but he's not sure. Still, he decides getting rid of the problem decisively is the best option, and ends with "He said Hasegawa Kiyoshi, right?"
A short time later, Kiyoshi shows up at the hospital, called there in the middle of the night by Kouno. He starts to ask what Kouno could possibly want with him when all of a sudden Kouno presses a button and the door slams shut, and Kouno infoms Kiyoshi that he's the one asking the questions here, and advises him it's in his best interests to answer truthfully. He starts to ask Kiyoshi about how he knew about Teru's kidnapping but Kiyoshi interrupts by answering with a full account of how Kouno lured Teru into his car by promising to take her to where Daisy was. Then Kiyoshi asks if that is what Kouno wanted to talk to him about. Kiyoshi says that he knows it was a lie because at that time Kurosaki wasn't able to contact anyone due to Shibayama's cellphone-jammer device, so there's no way he could have contacted Kouno to go get Teru. Kouno tries to say he was just taking precautions but Kiyoshi counters that if it was just the matter of Akira being sighted, Teru would have gone back to the school to tell Andy and Riko, not immediately jump in the car with Kouno and flee. Which means Kouno used Kurosaki's name, knowing Teru believes in Kurosaki unconditionally, to get Teru to go with him without alerting anyone else first. Kouno deduces from how well prepared Kiyoshi is that he must have been let in on everything by Andy, which Kiyoshi confirms. Kouno deduces that Andy must have known he was being watched. Kouno laments to himself that Kiyoshi's testimony alone probably isn't enough to peg him for the criminal but even so it's a hinderance. Hearing this, Kiyoshi brandishes his cellphone and announces that he has been recording this entire conversation and will immediately afterwards go let Kurosaki's group listen to the entire thing. Kouno reveals that he was expecting this, and tells Kiyoshi that he will give Kouno the recording and tell everyone that he misunderstood what he testified to hearing, or better yet, he was forced to give false testimony by Andy. Kouno threatens that if Kiyoshi doesn't do this, Teru will be killed; all Kouno has to do is call his subordinate and they'll kill Teru, so Kiyoshi has no choice but to obey Kouno. Kouno then starts to taunt Kiyoshi about how futile his efforts were, and suddenly Andy, hidden in the furniture that had been moved out of then back into the room reveals himself, scaring the sh*t out of everyone. Kurosaki, Master and Riko, dressed as a doctor, a surgeon and a nurse respectively, and Nishida and Shibayama (dressed normally) reveal themselves as well, and Kurosaki says to Kouno "Checkmate." Kurosaki apologizes to Andy for leaving the 'heavy lifting' so-to-speak to him, and Andy says that it was Kiyoshi who had the hardest part. Andy is also surprised that everyone came, it wasn't part of his plan and he though they wouldn't come since there wasn't much proof that Kouno was the culprit and no guarantee they'd be able to prove it. Master gets mad and said that's why they came, because he needed their help. Kurosaki says "Did you think we'd let you do it all alone?" and thumps Andy on the chest amicably. Meanwhile, Kouno is playing the pity card and begging Shibayama to save him, citing that he was told (by Andora) that he'll be disposed of if he were found out. Nishida agrees to take Kouno into custody and have him heavily guarded in exchange for full disclosure of everything he knows. Kouno reveals that Teru's being held hostage at Base G77 on uninhabited XYZ Island, where the facility indicated in the "key" to the mystery of The Will of M is located.
Next Chapter 6/13 (Thursday)